PHS dominates the 2023 Arts & Tides Calendar Contest with most winners
The Palau International Coral Reef Center joined the Palau High School General Assembly on Monday, September 12th, to award the students whose artwork were selected for the 2023 Arts & Tides Calendar. Distinguished Arts & Tides Calendar donors who were able to join the awarding ceremony with PICRC are Madam Ambassador Jessica Chienyi Lee, Ambassador Extraordinary and Plenipotentiary of the Republic of China (Taiwan) to the Republic of Palau, and Mr. Richard Quinn, Australia Embassy's Chargé d' Affaires.
The theme for the 2023 A&T Calendar is, "I choose a sustainable ocean". Students from all over Palau submitted their artwork to the contest earlier this year, where the judges reviewed and selected the winners. Every year, the center recognizes students from the schools who had the Overall Winner, most winning participants, and the school who had the most participants.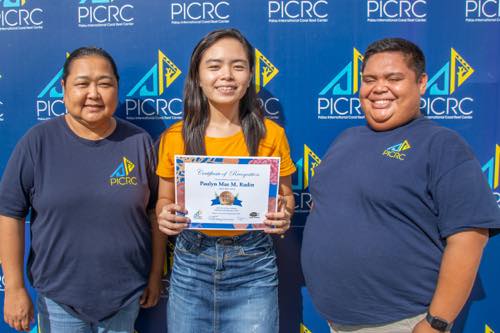 This year, seven students from Palau High School were recognized at the Assembly for their exceptional artworks in the 2023 Calendar. As a result, Palau High School won two categories in the 2023 A&T contest: most winners and the overall winner. The overall winner was former senior student, Ms. Paulyn Mae M. Radin, but because she has graduated, the school will help contact her family to come to the Center to receive her award. 4 Palau High School Students were able to win the 1st Place Prize for the High School Category, placing 1st from the 9th Grade to the 12th Grade. The other students who were recognized at the Assembly and received cash prizes with certificate of participation. They will also be receiving a copy of the 2023 A&T Calendar once it arrives.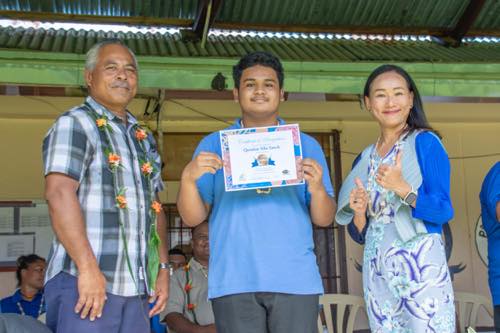 PICRC would like to thank all the participating students this year for their remarkable artwork. We received over 1,000 entries from students all over Palau, and we would like to recognize that this was the first time we received artwork by the students of Hatohobei Elementary School. "We hope that the 2024 A&T participation rate and the years forthcoming will continue to increase. We also hope to start receiving artworks from both Southwest Islands next year, in addition to the other outlying states of Palau. This is an opportunity for students to get creative while thinking about our marine life, and also have the chance to win prizes for themselves or their schools," stated CEO Dr. Yimnang Golbuu.
The next awarding ceremony for the 2023 A&T Calendar will be at Ngaraard Elementary School, for having the most participants. This year will mark Ngaraard Elementary School's third time for having 100% of its student population participating for the Arts and Tides Contest. Preparations and planning to Ngaraard Elementary School are underway.
Like every other participant for the Arts and Tides Calendar contest, all participants will receive a complimentary copy of the 2023 Arts and Tides Calendar, once they are available for distribution.