PICRC honors Ambassador Matsutaro with the naming of its administration building
The Palau International Coral Reef Center held a small building naming ceremony on Friday, September 2, 2022, in honor of Ambassador Francis M. Matsutaro. Ambassador Matsutaro was the founding CEO of the Center, who was hired before the Center's opening in 2001. Back in 1999, Ambassador Matsutaro became the first CEO of PICRC, overseeing the construction, management, and early administration of the Center. As CEO, he served just a little over 5 years, but his contributions and efforts laid out the strong foundations of the Center that is still being kept and upheld today.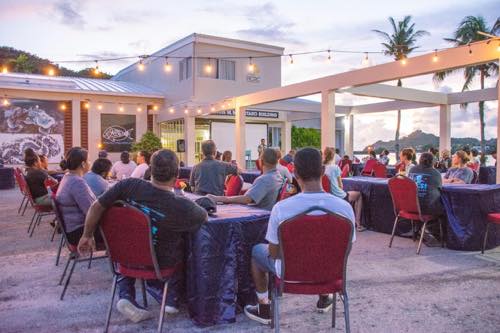 PICRC's Chairman of the Board of Directors, Mr. Keobel Sakuma, stated, "PICRC is truly a model of a Palauan managed and operated science and education center in the Pacific, with a culture of professionalism and pride. It was the vision of those who established the Center over 20 years ago that [set up a strong institution] and is being carried on to this day with the center's leadership and staff. Today, we are here to honor a man who was largely responsible for creating that very culture and vision, Ambassador Francis Matsutaro."
One of Ambassador Matsutaro's greatest achievement, as the Center's founding CEO, was initiating the first strategic planning for the Center – an activity that is done every 5 years. He understood that when the staff partake in these exercises, it empowers capacity strengthening and ownership of the strategic plan. And to have the plan endorsed by the board, everyone will work together to fulfill PICRC's mission: "To be a Center of Excellence that produces high quality and impactful research, education, and opportunities to support the stewardship of Palau's ocean resources."
Ambassador Extraordinary and Plenipotentiary of Japan to the Republic of Palau, Mr. Akira Karasawa, remarked that he had the pleasure to work alongside Ambassador Matsutaro when he was based in Tokyo, Japan as the Republic of Palau's Ambassador to Japan. He shared that Ambassador Matsutaro left a great legacy back in Japan as well, holding the record as the longest serving ambassador in Japan. He also made the name "Matsutaro" a famous surname that nobody can forget.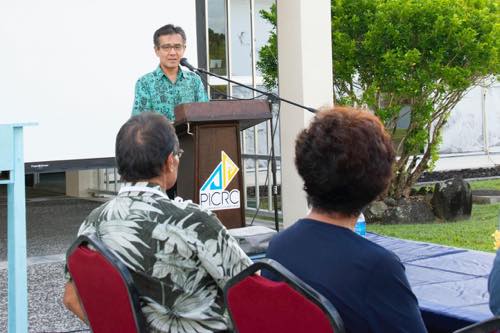 Additionally, CEO Dr. Yimnang Golbuu shared, "With this building naming ceremony, we honor Ambassador Matsutaro for all his years of service and contributions to the Center. We also honor him for his vision and crucial efforts in setting a solid foundation for the Center that we continue to build on.  Without his efforts, the center would not be where it is today."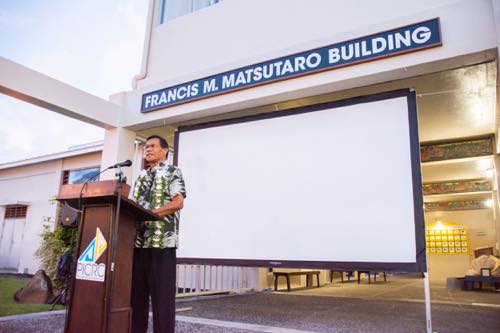 To close the ceremony, Ambassador Matsutaro remarked that he is deeply humbled by the gesture. He stated, "This is not just any building, but a building of great significance because it houses the research activities that is key to saving and sustaining our marine environment and oceans. The thought that this building will outlast me for many generations is deeply humbling. My grandchildren and their future generations will hopefully understand why it was made this way. It is indeed my high honor to receive this very prestigious gesture of recognition." With that, he thanked the Government of Japan's support, not only for the construction of the Center but also for their continued support to the people of Palau in various projects and aid. He also thanked PICRC staff for all their good efforts to sustain the Center of Excellence.