PICRC staff support coral restoration in Ngaraard
The Palau Aquarium team at the Palau International Coral Reef Center (PICRC) has performed a site assessment of the patch coral on the west side of Ngaraad. The reefs were heavily damaged by typhoon Mike in 1990 and the site assessment was requested by the governor of Ngaraad to see if restoration is possible. This work is in line with the Aquarium's new strategic plan, which focuses on giant clam and coral propagation, research, and restoration. 
Upon surveying the area, the Aquarium team decided to focus on one patch reef site because of its suitability and accessibility. At this site, the team found a high proportion of bleached and broken corals with low algal growth. To assess the resilience of the area, two local rangers were trained in scientific monitoring methods. The rangers will monitor the area for three months to observe how the corals cope with the current bleaching event.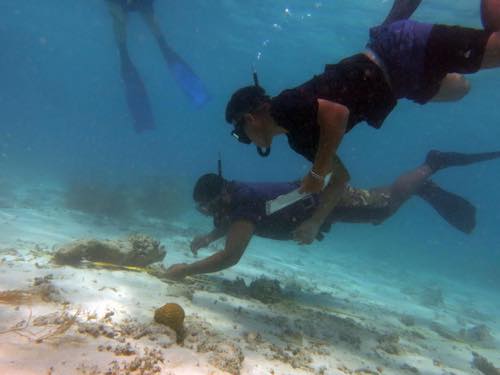 The Palau Aquarium team will return to Ngaraard at the end of December to analyze data collected by the rangers. If it's decided that these corals have tolerated the current bleaching event, the team plans to implement a strategy which aims to restore the coral community to how it was before typhoon Mike.
"This is the first time that the Palau Aquarium is working directly with the community," said Palau Aquarium supervisor, Asap Bukurrou. "We plan to treat this as a pilot project, with scope to further collaborate with the community to help achieve healthy reefs and food security."
The team also surveyed the area to visualize the current community of giant clams, which have been harvested in the area for generations. The Aquarium team are currently growing giant clams at PICRC, some of which will be planted in Ngaraard in a way that will restock nearby reefs, promoting food security for the local community.
With the support of the governor and local rangers, the restored reef will be protected from fishing. This will allow coral and clam larvae to spread to nearby reefs.